We look at book design templates and explore the pros and cons of using them to help you make the best decision for your self-published book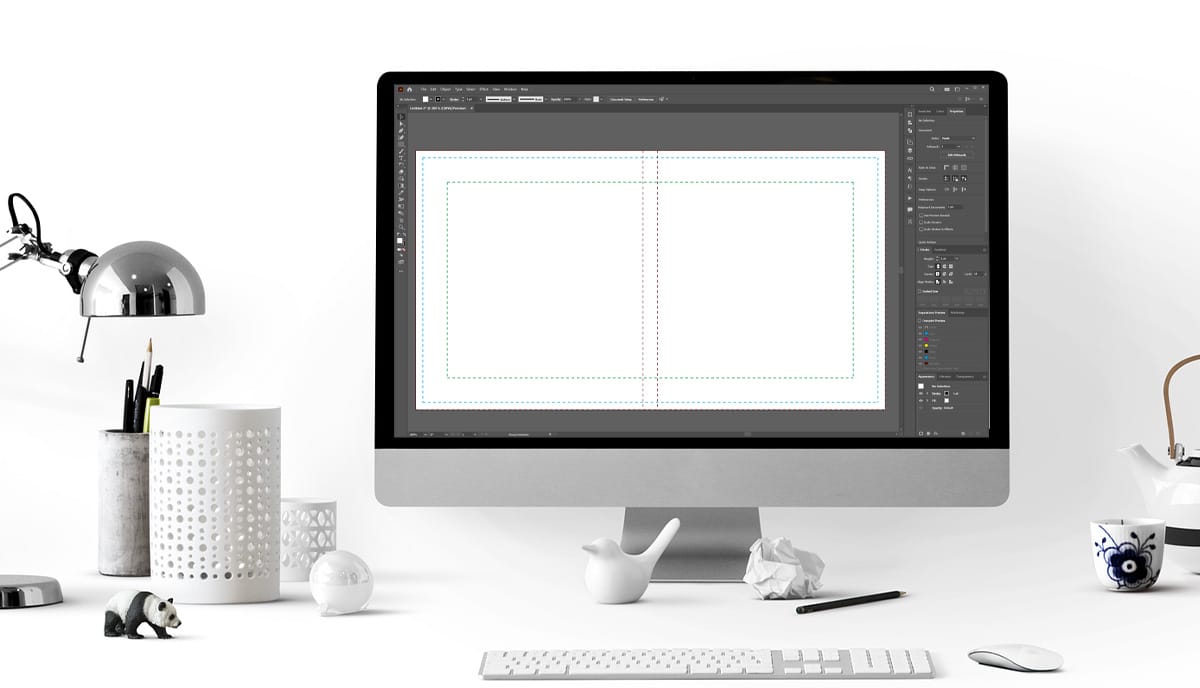 At QinPrinting, besides striving to uphold our global reputation as an offset printing service of unparalleled product quality and exceptional customer care, we're committed to excellence in design. That's why we've developed our helpful range of ready-to-use templates for everything from catalogs, calendars, and flyers, to brochures, boxes, and books. As we're dedicated to supporting everyone—including self-publishers and independent creatives—to access the finest design and printing products at unbeatable prices, it seemed a logical step.
While most of our corporate clients have in-house designers or established relationships with reputable third-parties, it's a vital aspect of our mission to make the same high-quality services available to everyone, including "the little guy". So many talented indie authors stumble at the design stage and handicap their success because they're submitting books with newbie design errors or formatting and pre-press issues. We thought it would be helpful to create custom-made, ready-to-use, industry-standard book design templates to lift self-published authors easily over these hurdles and make sure they get the same professional-quality results as all our other clients.
What are book design templates?
A good book design template is a pre-designed layout structure into which you can add your own artwork, text, and so on to create a book which conforms to industry standards and can easily be exported ready for printing. It comprises the formatting and style option that allow you sufficient customizing to make sure that your book has a unique look and feel. It also includes ready-made layouts for all the fundamental pages you'll need including the "front matter", copyright page, title pages, acknowledgements, dedications, and more.
What template should I use for designing a book?
There are lots of templates available for all aspects of book design. Several are limited to use with a specific software or word processing product. Others are more general in aspect. If you choose to work with us, we recommend that you download one of our own specially made book design templates. We'd also encourage you to get in touch and talk through your ideas with one of our in-house design experts before you get started. Once you're done, we'll manually check all your files for you before going to press and if we find any issues, we'll let you know, explain what they are and how to fix them, and support you every step of the way.
What are the advantages of using a book design template?
You'll find many potential advantages to using a book design template as an independent publisher. Not least of them is that, combing with the expert advice and support that we offer, they can contribute to your learning and take you a step further to conquering design without holding you back time-wise. But there are several other benefits, too, which we'll look at now.
• Templates make design less expensive
For the self-publisher, the only possible design solutions are to pay an independent or agency designer to work on your project or download appropriate software and a user-manual and start the long climb up a very steep learning curve. Both options turn out to be quite expensive. Here's why.
In the first case—outsourcing to a freelance designer—you're looking at a minimum spend of a few thousand dollars for anything worth having. After all, the designer must read your book, research comparable titles already in the market, source and pay for artwork, generate a series of design options and roughs, liaise with you and your formatter (unless they're also handling the formatting or typesetting, which is another expense) and then develop the design you choose through several iterations, separate and prepare each file and format it for offset printing and liaise with your printer to make sure that the process goes smoothly. That's a lot of time and expertise. If you have the budget, it's money well-spent with a good designer. But for many self-publishers and independent creatives, it's simply off-limits—at least when you're just starting out.
If you go the DIY route, the initial expenses may seem to be fewer, but there are hidden costs down the line. So, the outlay on the software needn't be prohibitive. At the time of writing, a monthly subscription to the Adobe suite will cost you $20.99 a month with 100GB of Cloud storage thrown in. But downloading software and learning how to use it are two different things. If you go by intuition, trial-and-error, and the minimal support information available without added costs, it could take you months to perfect your first book design. You can short-cut that process by taking a course, which will set you back another few hundred dollars but would definitely be an investment is you're serious about your career and would cut your learning time down to just a couple of weeks.
But what if there was an alternative? What if there was a compromise that allowed you to use professional software like Illustrator or InDesign but cut a lot of corners by prepping the basics for you in advance, leaving you to "paint by numbers"? That's what a good book design template can do for you. It's not for everyone—and we'll cover the potential downsides in a minute—but many of our clients have told us it's a godsend. It can get you started for a fraction of the cost of either of the alternatives. Down the line, once you've developed your fan base and have a reliable and predictable income from book sales, you can up your game. But as an entry-level solution, you'll save yourself a lot of time and money.
• Templates make tweaks and updates 'on the fly' easy to do
A high-quality book design template will include all the possible elements of a custom design, including fancy formatting options like drop capitals, illustrated breaks between scenes of chapters, or simple inserts for graphs, charts, and tables if you're a non-fiction author and need those elements. But rather than needing to code all these aspects on the back-end, a book template gives you an intuitive user interface into which you can just drop or copy/paste the elements you want to include. This also means that if you spot errors down the line or need to swap out one for another, you can do it with a few simple clicks of a mouse.
• Templates are perfect for series
While the advantages—other than the expense—of custom book design can't be denied, if you're a self-publisher of genre fiction and you have an ongoing series, paying out each time for each new episode would cost a king's ransom. When you have a template, once you've built out the interior formatting and cover design for the first book, it makes the next one much faster. Effectively, you just add in the new text and cover art and after a few minor tweaks, you're done. The other advantage of these is that you're guaranteed an easy route to consistency in branding and recognition which is vital as an independent publisher.
What are the disadvantages of using a book design template?
We know from experience and client feedback that book design templates are a huge help to many self-publishers at any stage of their careers but especially for the beginner. Still, it's only fair to acknowledge that they're not the universal panacea that many hope they will be. They still involve learning and work. The only way to get a book designed without doing any work is to pay a designer! So, in the interests of honesty and transparency, here are the potential disadvantages of using a book design template.
• Limited customization options
You can't use a design template and expect to have access to the full range of customization options you'd get if you did everything from scratch or employed a professional to do the work for you. There will necessarily be limitations. For example, the number of fonts from which you can choose, pagination styles, graphics integration, non-traditional formatting, and more. So, if you really have a project that demands lots of unique or unusual elements, a template may not be right for you.
• Restricted graphic freedom
All good book design templates include layouts for the front and back covers. But within that framework, again, you'll almost certainly find yourself restricted to exactly how you can adapt your graphic artwork to the given spaces, title fonts, positioning of ISBN barcodes, logos, and so on. The same goes for any interior graphic elements. If you're an academic, say, and you need to include lots of detailed, full-color figures, you may find that a pre-made template is too restrictive for your needs.
Universal book design templates just aren't a thing. So, any template you work with will have been built to function within a specific software environment or with a particular word processor. We wouldn't recommend word-processor based templates for preparing files for offset printing as they'll often go a bit weird when you convert them to PDF for export. You'll also find that they may be adequate for eBook creation but you won't be able to use them to make book covers for printing. So, either way, even with a template, you will still need to invest in appropriate design software. We recommend Adobe's suite of applications, specifically Illustrator and InDesign.
Should you use a layout template?
In the end, the decision to use or not to use a book design template is a personal call. Our advice would be—if you're new to self-publishing and either can't afford to employ a third-party designer or prefer to have total creative control over all aspects of your project—a design template can be a great starting block. You'll learn a lot, avoid a bunch of errors, and get your book to market faster. You can always up your game down the line as your confidence builds or outsource as your business grows and you increase your budget.
Whatever design options you decide on, it's never too soon to get your printer involved. We can offer you all kinds of advice and support based on our 25 years' success in the industry. We have a serious commitment to the highest-level customer service, a genuine passion for print and people, and an enthusiastic team of experts eager to help you. No matter what stage you're at in your publishing journey, get in touch to discuss your needs. We'll be delighted to help.