Painted Edges, Gilding, and Patterned Edge Book Printing

To add an authentic touch of class and a spark of originality to your books, why not choose custom edges?
At QinPrinting, we offer an array of edging options. We can paint a single color onto your book's edges to bring a stunning and high-class effect to your book's appearance. Gilding—in which we apply colored metallic foil to the edges of the pages—is a traditional and classy choice. The "gilding" needn't only be gold. We offer silver, copper, bronze and a rainbow of dazzling foil colors from which you can choose. How about a custom pattern or image sprayed onto the edge of your book pages? With this technique, you can even choose a unique pattern for each side.
Whether block color painted, gilded in colored metallic foil, or customized with a pattern of your choice, these exciting techniques can elevate any book to a work of art.
Painted, Gilded, and Patterned Edges Options
Whichever style of edge enhancement you choose, we can offer you a range of options. What you decide to include in your book design will depend on the book's content, binding style, the rest of the artwork or your company branding, and, of course, your budget. So, let's look at what's on offer.
Option 1: Edge painted with custom colours: this is the solid color or gradient color option. We can make custom colours using the CMYK or Pantone systems.
Option 2: Custom edge patterns: these could be abstract, illustrative, or represent your branding, logo, or company name.
Option 3: Luxury glided metallic edges: You'll have seen gilded edging on old bibles and works of poetry and literature. But it needn't be gold. You can choose any color you like from our extensive range.
Unlike most other printing companies that offer these services only for hardcover books, with QinPrinting's state-of-the-art technology and skilled edging experts, you can apply these effects to either hardcover or paperback books as you need. Size is also no object, we'll edge your books beautifully whether they're large or small. We can also change out the edging—say between blue and yellow painted edge versions—in a single run. So, for example, if you were printing 1000 copies of your novel, you could choose to have 500 of them with blue painted edging and 500 with yellow.
If you have a series of books—such as a trilogy, quartet, or quintet, for example—we can spray paint a single image across all the books so that each volume has a section of the image which is completed when they are aligned side by side.
Applications for Painted Edges, Gilded Edges, and Patterned Edges
As we can apply these techniques to either paperback or hardcover bindings, you can use them to excellent effect across a range of genres. These are the most popular book types for which our customers have used special edging effects:
Other clients have used these techniques on non-book products, too, with superb results. These products include Tarot cards, oracle cards, game cards, thank you cards, business cards, postcards, notepads and more.
Special Edges Artwork Tips
The quality of your artwork reproduction is always important, but especially when you're adding special features like painted, gilded, or patterned edges. With that in mind, here are a few useful tips to help you when you're preparing your files for the printer.
If you choose gilded edges or solid color painted edges, you don't need to prepare the artwork files. Just let us know which CMYK or Pantone colors you'd like and we'll see to the rest.
If you decide to paint the edges with images, illustrations, or a logo, you'll need to account for the "bleed zone" when preparing your layouts. The bleed must be 3 mm (0.125 inches).
So, when calculating your book edges length, you need 0.125 inch bleed + book width + book length + book width + 0.125 inch,  so it will wrap around the entire edge.
The width calculation is 0.125 inch bleed + book thickness + 0.125 inch bleed.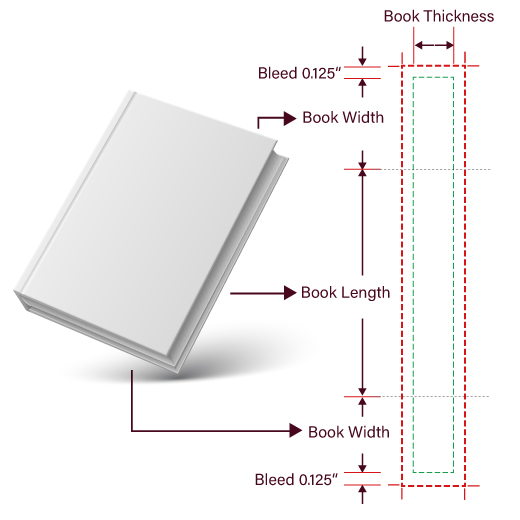 If you choose painted edges for your book, remember that you can't use bled to the edge rich colors on the interior pages. It would interfere with the painted edge results. In other words, edging can only be applied if the pages have a white margin inside.
If you're working with a professional designer to create your files, they should understand what's needed to make everything "print ready". But if you're working with design software yourself for the first time, these are the vital tips to remember before you submit your files. Still, our team of experts will always manually check all your files before we go to press. If we find any issues, we'll let you know and help you resolve them. We won't print your book or other product until we're sure we'll get a perfect result.
If you're keen to elevate your book design by adding one of these special edging effects — and only the finest product and unbeatable customer service will do — we should talk. Get in touch today to chat through your needs or to ask for a no-obligation quote. We can't wait to help you make your next book into a stunning work of art!