Singer Sewn Book Binding and Printing

We explain Singer sewn binding, its uses, advantages, and special features.
You can recognize a Singer sewn binding immediately because of the stitching down the "spine" of the book. It's a simple, graceful technique that allows the book to be opened completely flat. While this is a very popular binding technique for faux medieval and archaic style notebooks and journals, it can also be designed with a smart, contemporary look and feel.
At QinPrinting, we specialize in book printing and binding of all styles and types, including beautifully crafted Singer sewn book binding. If this service interests you, we'd be delighted to discuss how to realize your project to the highest standards while staying within your budget.
What Is Singer Sewn Binding?
Singer sewn binding is a traditional binding technique. Using specialist sewing machines, we bind the pages of your book together with strong threads, literally sewn through the bend or spine. The result is an attractive and robust binding that keeps the pages and covers in place and allows for opening the book flat on a desk, table, or lectern.
How Much Does it Cost to Print a Singer Sewn Book?
The exact cost of printing a singer sewn book depends on several factors such as the paper options you choose, the size, page count, black and white or color printing, number of copies printed, and more. But you can get a rough idea of the printing costs from our handy at-a-glance chart below. For a more precise estimate, get in touch to talk to one of our expert advisors.
Singer Sewn Book Printing Price Chart (6" x 9")
Quantity

100pcs

500pcs

1000pcs

2000pcs

5000pcs

10000pcs
Please note that all prices are EXW our facility and do not include shipping costs.
Cover: 250 gsm / 92 lb coated cover paper with matte lamination outside
Interior: 120 gsm / 81 lb uncoated text paper
Cover and inner: full color printing
Binding: singer sewn binding
What Are the Advantages of Singer Sewn Binding?
Singer sewn books are similar in several ways to saddle-stitched books, although modern saddle-stitched books use metal staples rather than thread. Sewn bindings are significantly more robust and durable than stapled bindings, however, and offer a wider range of customization options. For example, you can choose from a wider array of materials, including the paper type for the interior and the option to use leather, vinyl, or textured paper for the cover. You can also select colored threads to enhance the style and unity of your design.
While in our state-of-the-art printing and binding facility, we use modern sewing machines to execute this binding style, it can still give an attractive, traditional, handmade look which is ideal for several notebook or journal printing projects. At the same time, the neat finish can be adapted for a clean, modern look if that better suits your design.
Singer sewn bindings are secure and durable. The pages don't come loose easily and you can lay the book flat open without cracking the spine. It's also safer for children's books than saddle stitching, as there are no sharp staples or adhesives involved.
Custom Singer Sewn Binding Services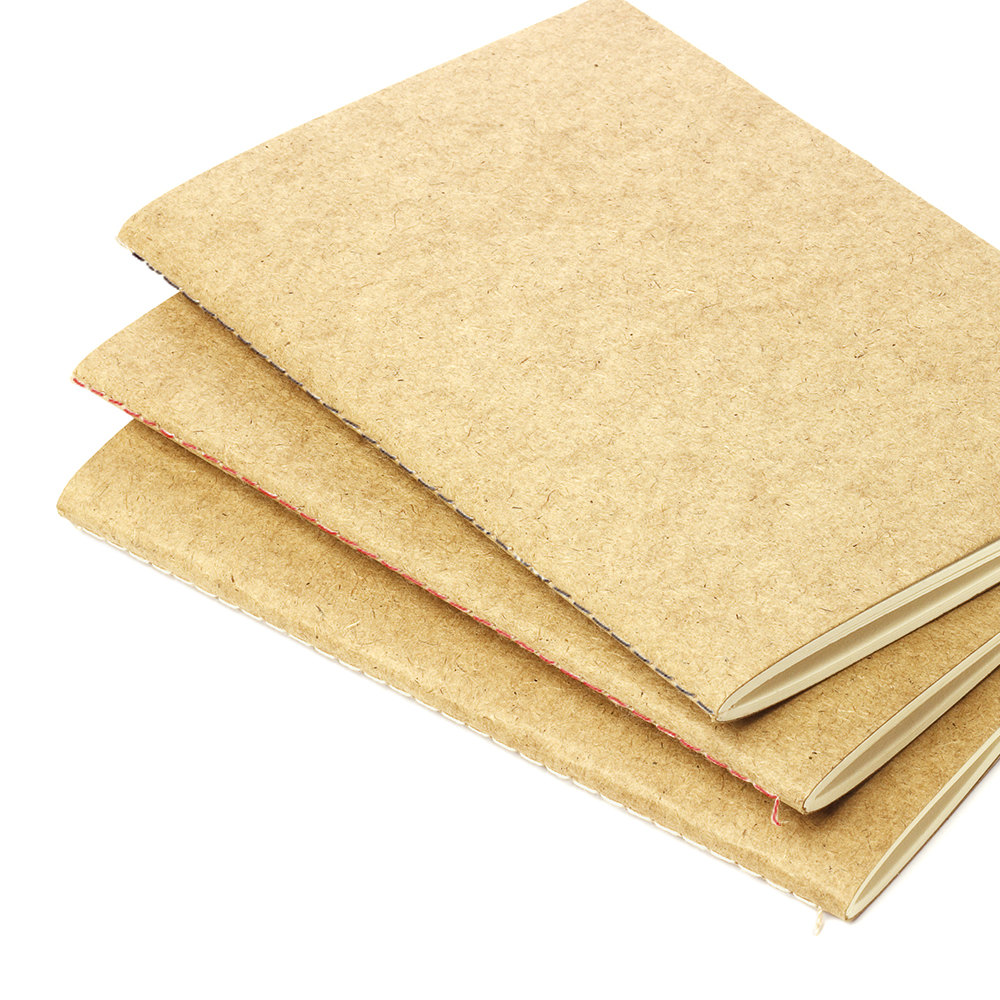 At QinPrinting, we offer a full range of Singer sewn binding services, including:
Customizable Thread Colors
Including white, black, red, green, yellow, and more.
You can choose from custom-printed covers, textured paper, vinyl, or leather.
Any number of pages from as few as 4 up to 128 pages, so long as the spine doesn't exceed 6 mm thick.
Including metallic foil stamping, embossing, debossing, laminating, and UV spot coating.
If you have any special requests for your cover, talk to us. If it's possible, we'll do it!
Applications of Singer Sewn Binding
Within the limitations of the maximum page count, Singer sewn binding is a viable and attractive solution for covering an array of different book genres. Here are several of the most popular:
Medieval or ancient style: A leather cover and rustic threads coupled with vellum or parchment textured paper for the interior gives a beautiful antique look and feel which can be ideal for a notebook, personal journal, roleplay costume or campaign notes, or a fantasy or medieval mystery novella, for example.
Children's picture books: A safer alternative to staples, Singer sewn binding is an excellent choice for children's books. It's also great because the pages can lay flat allowing kids to see the illustrations and explore the text more easily.
Art and craft books: Singer sewn binding is a superb option for art and craft books as it can be given a lovely, tactile, "homemade" feel for something traditional, or we can make it slick and contemporary looking for a more modern approach. And again, the open-flat pages are great for full-color spreads.
Photography books: Photography books often work well with Singer sewn binding for the same reasons as art and craft books.
Personal journals: Journaling is a popular pastime with people of all ages, whether as a fun hobby, for personal development, or to leave a lasting legacy. Personal journals may be printed with blank pages or with suitable quotations and writing prompts or illustrated in the margins and Singer sewn binding is a great option for these kinds of products.
Themed journals: Similar to personal journals but geared to a specific theme, such as gardening, poetry, sports, music, historical figures, or famous inventions, for example; themed journals are popular and sell well. Singer sewn binding can be the optimal choice for journals.
Stylish and unusual notebooks: With a plain but attractive cover and blank pages inside, Singer sewn books make attractive and unique notebooks for writers, artists, business people, students, and more.
Singer Sewn Binding Paper Options
Unless you're choosing to cover your book with leather or vinyl, you'll need to choose two kinds of paper. One for the cover and one for the interior pages. Singer sewn binding is a versatile technique and so your choice of papers is wide. Paper comes in different thickness measured by weight and that will influence the number of pages in your book. But these are the most popular paper types for the inside pages and the cover of a book with Singer sewn binding:
Uncoated "offset" paper—this is the best option if you are printing a book you want people to write in as it has good resistance and high absorbancy
C2S "coated two sides" paper—this is an excellent option if your book will be printed throughout and includes lots of images, artwork, or photographs.
Gloss or matte lamination—for pages that needn't be written on, a coating of gloss or matte laminate can add vibrancy and protect the ages from scuffing, scratching, spillages, and other wear-and tear.
Textured paper—textured paper can make a superb choice for covering a Singer sewn bound book. A range of textures includes parchment, vellum, cloth, fiber, and many more.
Offset paper:—you can use offset paper for the cover, too. Just make sure that you choose a slightly heavier, and therefore thicker, paper for the cover.
Coated paper—coated paper, either C1S or C2S also makes a superb choice for your book cover.
Realistic imitation leather: polyurethane (PU) realistic imitation leather is a fantastic option and can be styled either for the medieval look or for something more smart, contemporary, and sophisticated.
Singer Sewn Binding Book Design and Artwork Tips
Whether you're preparing your own text, artwork, and layouts or commissioning a professional designer to handle the technical work for you, it's important to understand how to prepare the finished digital files for printing and binding. You'll need to allow for bleed zones, safety areas, trim lines, and borders, for example, and make sure that the resolution and the color space are correct for all your artwork and images.
With that in mind, here are a few useful tips to help you when you're preparing your files for the printer.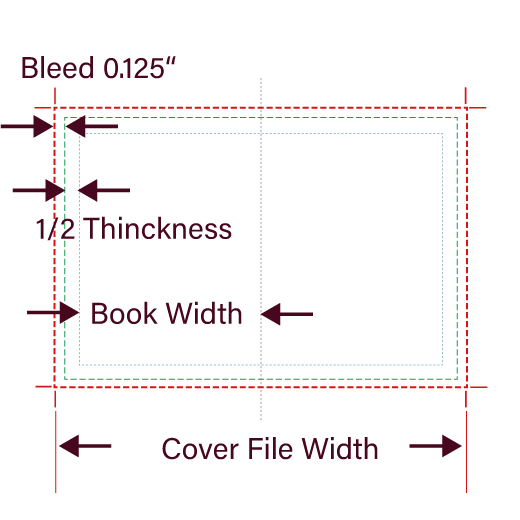 Calculating your cover size is important with Singer sewn binding. You need to add half the book's thickness to the final cover length. So, if your book will have a 6 mm spine, you need to add 3 mm to the length in your design file. For the cover, you'll also need to account for the "bleed" zone, which is 3 mm (0.125″). So, for a book that will be 6″ by 9″ in the hand, you'd calculate the front and back cover combined length as: 0.125″ (bleed) + 6.125″ + 6.125″ + 0.125″ (bleed) = 12.5″. And the height would be: 0.125″ (bleed) + 9″ + 0.125″ (bleed) = 9.25″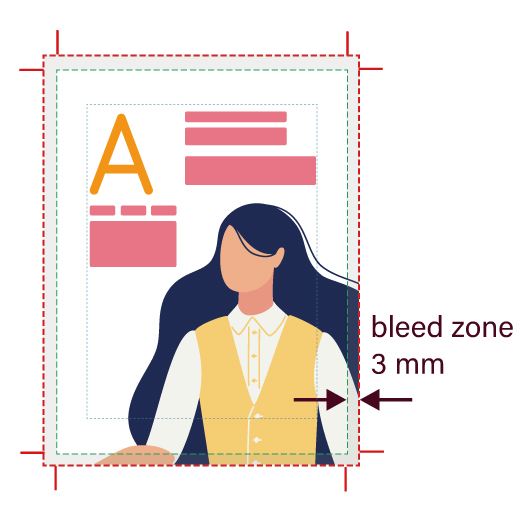 You'll need to add a "bleed zone" of 3 mm around all your pages. A bleed is an extended zone at the periphery of your photo, which falls outside the area that your finished page will cover. Once we've printed your pages, we'll cut them to the exact size needed for your photo book format. This "bit extra" gets cut off and makes sure that the finished image fills the page with none of it being lost.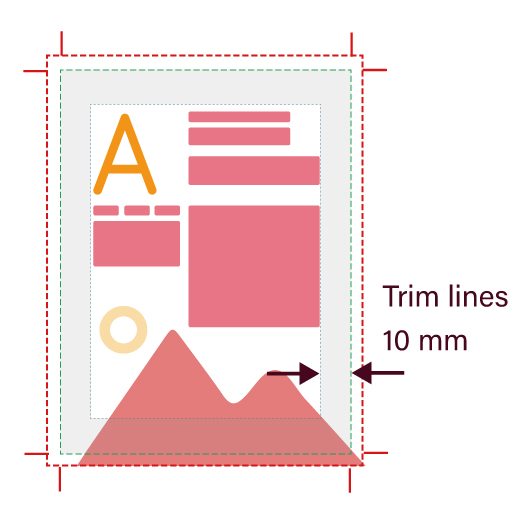 Inside your bleed zone, don't forget to mark the "trim lines". These will define the final dimensions of the finished page. Make sure that any necessary elements of your images stop at least 10 mm short of the trim line.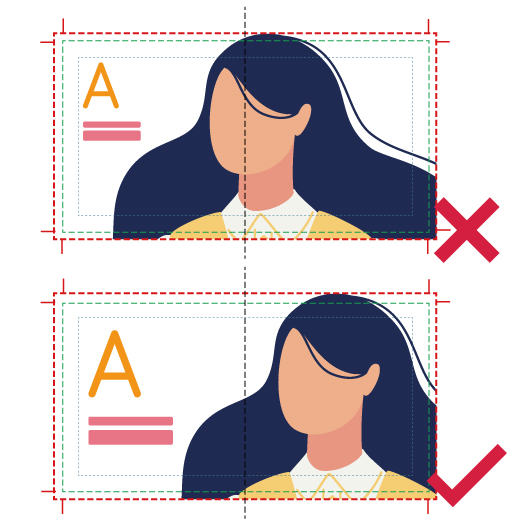 If a photo crosses over two pages in a "spread" make sure that nothing essential—like the subject's face or other important details—lie along the center crease.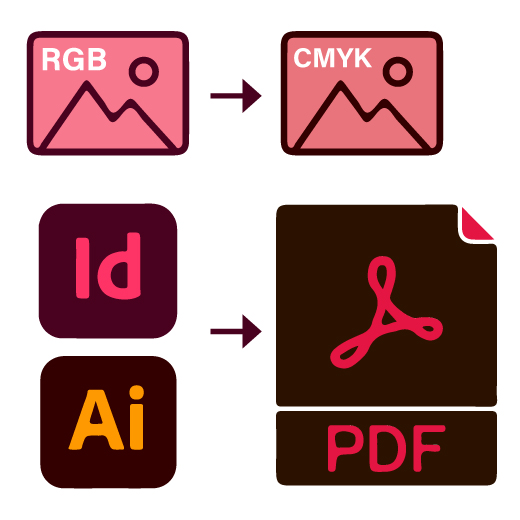 Export your files as vectors in PDF format for the best results. Our recommended software options for photo book design are Adobe Illustrator or Adobe InDesign. These will also allow you to convert your color space from RGB to CMYK which you will need to do for offset printing.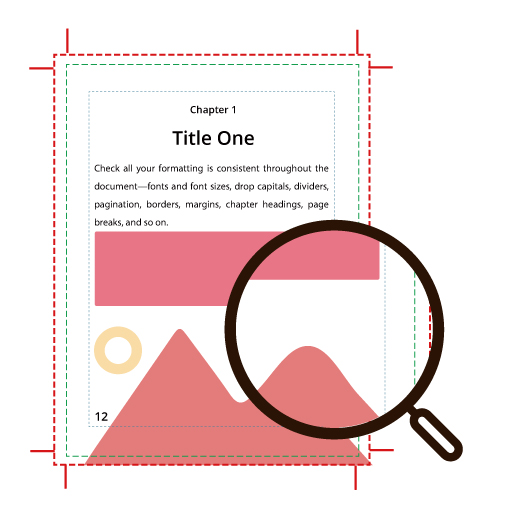 Check all your formatting is consistent throughout the document—fonts and font sizes, drop capitals, dividers, pagination, borders, margins, chapter headings, page breaks, and so on.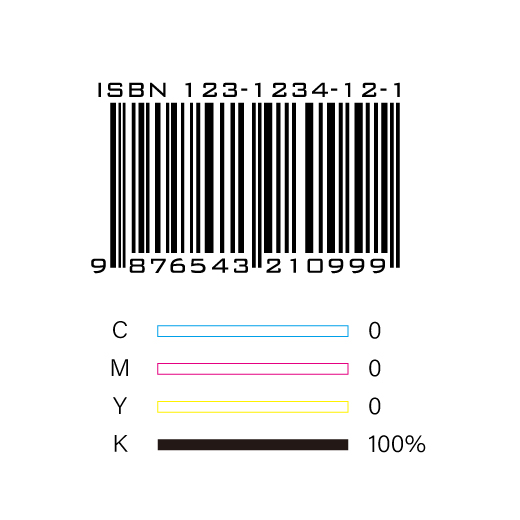 Don't forget your ISBN and barcode if your book is for sale. You can get both through Bowker in the US and Nielsen in the UK. The barcode must be a vector and rendered in pure black.
If you're working with a professional designer to create your files, they should understand what's needed to make everything "print ready". But if you're working with design software yourself for the first time, these are the vital tips to remember before you submit your files. The responsibility for sending "print ready" files rests with you. But please don't worry! We'll be happy to "hold your hand" through the process, explain what's needed, liaise with your designer, and manually check everything ourselves to make sure it all goes smoothly and you end up with a perfect print of your Singer sewn bound book.
To learn more about preparing your photographs, text, and layout for printing, please check out our Pre-press Artwork information page.
Designing and preparing a book for Singer sewn binding is always a satisfying creative project but can also be challenging if it's the first time. But we pride ourselves on our customer care and we'll be happy to help you at every step of the way.  Get in touch today to chat through your needs or to ask for a no-obligation quote. We can't wait to help you make your Singer sewn bound book the most beautiful and successful yet!