We explore five of the most exciting and innovative ways to make your printed promotional calendars work extra hard to attract attention to your brand and help build your business.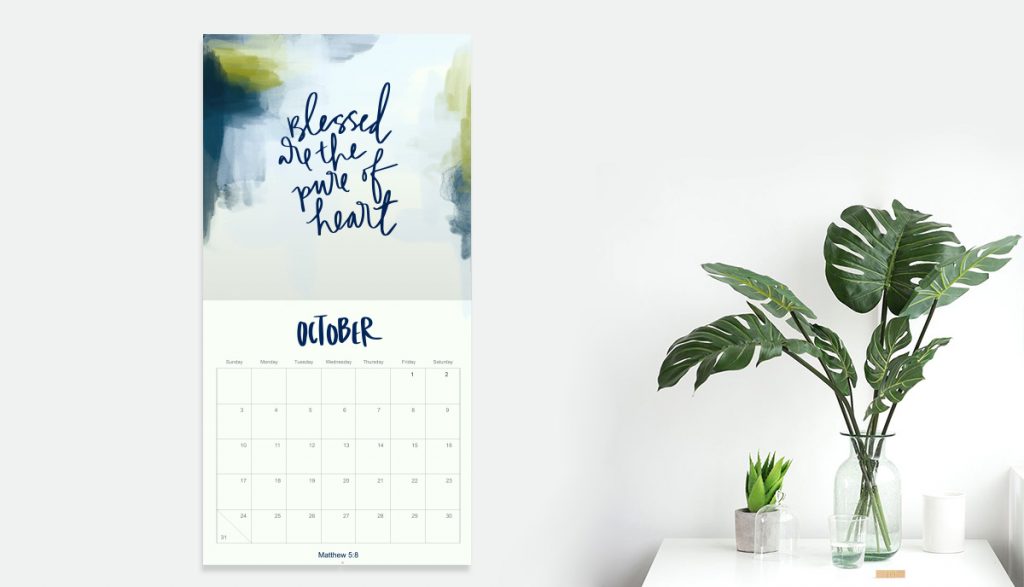 If you're reading this, you likely have a passion for marketing and an affinity for staying on top of the latest trends. With so many brands vying for the consumer's attention, it's challenging to find new ways to promote your brand effectively and memorably. In this blog post, we'll explore five unconventional ways that printed calendars can help your brand stand out from the competition. From a twist on traditional wall calendars to branded desk calendars, it may surprise you just how many ways printed calendars can help grow your business. Whether you're just starting as an independent marketing consultant or hoping to expand your company clientele with a secondary revenue stream, these tips will inspire you and help you see how you can use printed calendars to market your brand.
What is a printed calendar?
Now, you may be forgiven for thinking that's a silly question! But in the digital age, with its preponderance of online functionality and in-your-pocket apps downloadable to your smartphone, it's worth thinking about. A printed calendar is exactly what it sounds like — a printed object, somewhat like a booklet, made of paper, that has dates and other content such as images, photos, quotations, messages, and more printed on it.
You may think that's old-fashioned and outdated. But the key thing about a printed calendar — its most powerful selling point — is exactly that it isn't digital. People love printed, tangible calendars that they can hang on the wall, prop on the desk, stick to the fridge with a magnet, scribble on, stick things onto, and otherwise interact with in a tactile, first-hand way.
We often associate calendars with wall calendars, but printed calendars can come in many shapes and forms, such as desk calendars, planner-style calendars, or poster calendars. If you're wondering what the difference between a wall calendar and a desk calendar is, you mount the wall calendar on the wall and the desk calendar sits on your desk! Okay, there's a little more to it than that. We typically print wall calendars on high-quality paper with attractive, eye-catching photography, and are often larger than desk calendars. While the function of both wall calendars and desk calendars remains the same, wall calendars are more commonly used for promotional purposes. 
Calendar marketing is a time-honored practice that has been around for decades. But that doesn't mean that you can't apply a little modern marketing imagination to make them work hard as promotional tools for your business today. They are perennially popular and most businesses printed thousands at a time, year after year, because they get a good return on their investment.
The actual decision isn't whether to print a promotional calendar — the answer to that is a resounding yes — it's what can you do to make yours stand out? So, we've put together five innovative ways you can use your calendar in business promotion and marketing. This list isn't meant to be exhaustive. It's a helpful way of getting you to think outside the box. Let's dive in.
1. Grow your email list with printed calendars
One of the most effective marketing strategies that businesses can employ is growing their email list. Email marketing is still one of the most cost-effective ways of getting your message out there. As a marketer, you can't overlook this opportunity to build a relationship with your customers. Email marketing is three times more effective than Facebook and other social media platforms for increasing sales. Okay, so much we all know already. And what's it got to do with printed calendars?
Well, if you're a small to medium-sized business owner, you know that the best way to increase your revenue is to capture emails from your customers so that you can follow up with courtesy emails, special offers, product promotions, requests for feedback, and more. And a great way to do so is by using printed calendars as an incentive for people to sign up. When you give potential customers a tangible, useful reward for signing up for your email list, rather than the promise of yet another autoresponder or not-very-useful PDF report, they are more likely to take advantage of the offer. Printed calendars are a great incentive because they provide long-term value to your customers.
2. Build brand awareness with calendars that are like catalogs
Have you ever heard the saying, "Out of sight, out of mind"? Well, that applies for brand awareness. To build a strong brand reputation, you need to promote your brand consistently in the public eye. Brand awareness is the extent to which a brand is remembered and recognized. To build brand awareness, you need to be in front of your target audience as often as possible and ideally in an interactive context. This can include designing and printing branded merchandise, like t-shirts and tote bags, as well as using calendars to promote your brand. So, how about producing a branded calendar that promotes other branded goods — all those mugs and T-shirts and tote bags, hoodies, and bumper stickers we were just talking about?
With calendars, you can include information about a branded product to promote each month, alongside statements such as what your mission statement is, what other products you offer, or what services you provide. Having this information readily available to your audience makes it easier for customers to remember the brand behind the calendar. And that they use the calendar and maybe order other branded products from the calendar builds a stronger association with your brand and marketing messages in their minds. It's powerful stuff from a marketing psychology point of view.
3. Integrate QR codes into your printed calendars
You've probably heard about QR codes, but you might not have thought about integrating them into printed calendars. These square-shaped black-and-white images are scanned by a special app on a smartphone. This allows users to be immediately directed to a website, a video, a coupon code, or any other digital resource. With printed calendars, you can have a QR code linked to your email sign-up page, website URL, or social media pages. This makes it incredibly easy for your customers to learn more about your brand and connect with you online.
4. Try out-of-the-box ideas with calendars
Did you know you can create a calendar for almost any event or holiday? This includes sports tournaments, birthdays, religious holidays, the academic year, the conference season, and more. You can even create a calendar dedicated to your staff members or employees. These calendars are great for promoting your brand because they are often given as gifts at events or handed out to clients. For example, if you are a sports marketing consultant, you can create a sports calendar for your clients and include the team's schedule, important dates, and team records. This type of calendar is ideal for any business which caters to a very specific niche or market sector.
5. Future proof your calendar
Another unconventional way to promote goods with a calendar is to offer a discount for purchases made on certain forward-planned dates. This is a superb idea if you have a series of products or items that can be collected into sets. The idea is to generate more traffic on your site by offering a special price or a limited-time offer on a particular product. This is a great way to boost sales and generate more traffic on your site.
Marketers have many ways to promote their brands, but calendars are among the most popular. Printed calendars provide great branding opportunities and can help your business grow, especially if you stretch your imagination a little and get creative with your design. If you're looking for a cost-effective way to promote your brand and draw in new clients, printed calendars are a great option. While wall calendars are traditional printed calendars, you can also use desk calendars, planner calendars, or magnetic calendars to promote your brand. From growing your email list to increasing brand awareness, printed calendars can help your business earn more clients, increase sales, and improve your bottom line.
Talk to us today about how we can help you design and print the perfect promotional calendar for your needs. With 25 years of success in the business, the latest offset printing technology at our plant in Shanghai, and an expert team of dedicated staff ready to guide and support you at every step of the way, we'll be delighted to chat through your needs or give you a no-obligation quote. Let's talk!