Professionally printed desktop calendars remain one of the stalwarts of offline business promotion. Follow these five steps to create a calendar that builds your brand and boosts business.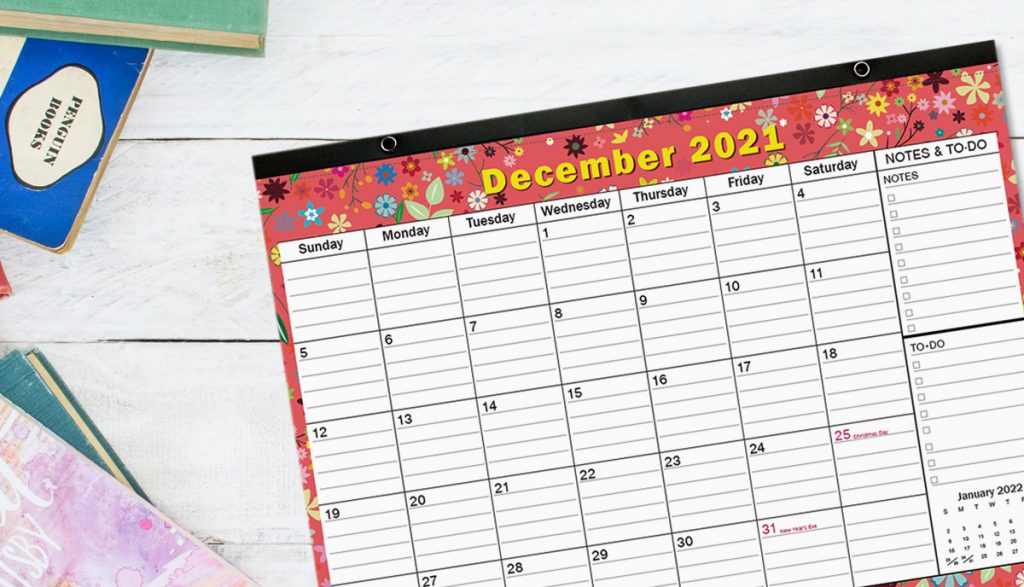 Why is a printed desktop calendar useful for businesses?
Promotional calendars are a great way to market your company's products or services. We can print them with your business's branding, logo, and contact information. Calendars can be given out at trade shows and expos or handed out at the office and distributed to customers in anticipation of the holidays. Calendars are a great way to advertise your business and keep your brand "top of mind".
This type of marketing tool will not only help you stay on top of things — after all, use it yourself and make sure all your staff have one, too! — but because a beautifully designed and professionally printed desktop calendar will look great on anyone's desk, it's an excellent opportunity for you to get your brand in front of potential customers without being too invasive, pushy, or "salesy" which might otherwise put people off.
Another great way to use printed calendars is for lead generation. If you are in a business that relies on new clients, such as a law firm or real estate agency, printed calendars make a great marketing tool. You can put your contact details on the calendar and give them away to potential clients. By the time the new year comes around, your contact details will be in front of many more people, helping you to drum up new business.
Getting a desktop calendar professionally printed can be the perfect cost-effective solution to integrating your online and offline marketing campaigns, too. For example, you can add QR codes so colleagues and customers can easily link through to your website or blog from their smartphones, or you can advertise pre-set online sales at specific times of the year. You could even encourage further engagement by printing special offers and discount codes right onto the calendar.
People commonly used calendar desk pads in offices, but you can also find them in schools, homes, and other business premises. This type of printed calendar is ideal for businesses that need to keep track of a lot of dates and appointments. They can use it for anything, from marketing campaigns to staff meetings. Keep in mind that calendars are affordable promotional items that customers are genuinely happy to receive. They are useful items that people will see every day, so you get tons of brand exposure for a minor investment.
If you need some inspiration and some tips on how to design a professional printed desktop calendar, let's dive in.
Step 1: Decide on a design
The first step is to decide on a design. You can either create your calendar from scratch or you can use one of our ready-made templates. If you are going to use an already created design, make sure that you choose one that is suitable for your brand and your industry. You'll need to think about the number of dates per page, the total number of pages, the artwork and photography, the layout and formatting, the paper type, binding style and more.
While designing your calendar yourself may seem like the most cost-effective way to go, it's often a bad idea unless you have high-level knowledge and skills and the best software, such as InDesign or Adobe Illustrator. By hiring a professional graphic designer, you will get a high-quality product that will look great and work hard for your business. A pro will also know exactly what you need, will make sure that your calendar is branded correctly, and understand all the complex technical details about preparing your files for printing. Calendars are one of the most popular items for businesses to give away, so every detail counts. A designer will know how to make your calendar look its best, from the colour scheme to the images used, and more.
Step 2: Select the right photos
The photos that you choose to use in the calendar should be high-quality images. Choose images that apply to the dates and event titles so that readers can easily associate them with the content. Avoid using generic stock images that don't have any connection to your content. If you use images of your team members, make sure that they all look smart and happy so that your calendar doesn't end up looking unprofessional. You can also use images that apply to your industry, such as pictures of office buildings or houses for businesses in the real estate industry, for example.
Make sure that your photographs are of high quality and original. Ideally, get a professional photographer to take them for you. Avoid clichéd shots of people in suits shaking hands, people standing in front of a computer, or shots that look like you took them from a free stock image site. The photos you choose for your business calendar should tell a story about your company or product. You can do this by including people, products, or places that are genuine and meaningful to you or your company.
Step 3: Find the right fonts
Next, you need to find the right fonts for your calendar. The fonts you choose will have a big impact on the overall design of your calendar. The fonts that you select should be readable and easy to understand. You should avoid using exotic fonts. Instead, choose fonts that are commonly used and easily recognizable. And don't overdo it. One or two fonts are enough, three at a push. The calendar must be crisp and clean and easy to read.
Step 4: Select the right colors
After you've decided on the photos and the fonts, you need to decide on the right color scheme for your calendar. The colors that you choose should be consistent with the overall theme of your calendar and compatible with your core branding. Most calendars use either warm or cold colors which may also be influenced by the season if you are producing a series of spring, summer, fall, and winter calendars. Warm colors include reds, oranges, and yellows. These are best for the spring and summer months because they are associated with heat. Cool colors such as blues, greens, and purples are best for winter because they are associated with coolness. Combining warm and cool colors in a single design can create a variety of effects.
Step 5: Prepare your calendar for printing
Offset printing is the most popular method of printing high-quality promotional calendars for wide distribution. It offers the best quality reproduction and is more cost-effective than, say, digital or in-house printing if you need over 100 copies. As with any printing method, you must prepare your files correctly to get the best results. If you use a professional designer, they should understand how to prepare files for printing with an offset press. But if you're doing it yourself, here's what you need to know about preparing your files for printing with an offset printing press.
Export all your files as PDFs
Use vectors for images and text
If you can't generate vectors in your software and must export bitmaps, say from Photoshop, make sure all images have a resolution of at least 300 dpi
Remember to allow for the bleed, safety zone, and the trim lines
Our in-house designers always check every file by hand to make sure there are no errors. If we find any problems, we'll let you know and help you fix them. We want your printed promotional calendars to be perfect and we won't go to press until they are!
If you follow these five steps, you'll end up with a professional printed desktop calendar you can use to promote your brand. You can give these calendars away to customers or corporate clients who will keep them in their offices for tracking important dates. You can also use them to distribute to your team in-house. Anyone can use these calendars and they are perfect for both personal and professional use. If you want to promote your brand, remember to create calendars that feature your logo or slogan. This is a great way to get your name out there and to make an impact with minimal effort and at little cost.
When you're ready to design and print your promotional desktop calendars, talk to us first. At QinPrinting, we have over 25 years of successful industry experience, the latest technology, oodles of expertise, and a serious commitment to quality and service. Get in touch for a chat through your ideas or to ask us for a precise, no-obligation quote. We're here to help in any way we can.