We show you how to create a stylish and effective catalog for your small business without breaking the bank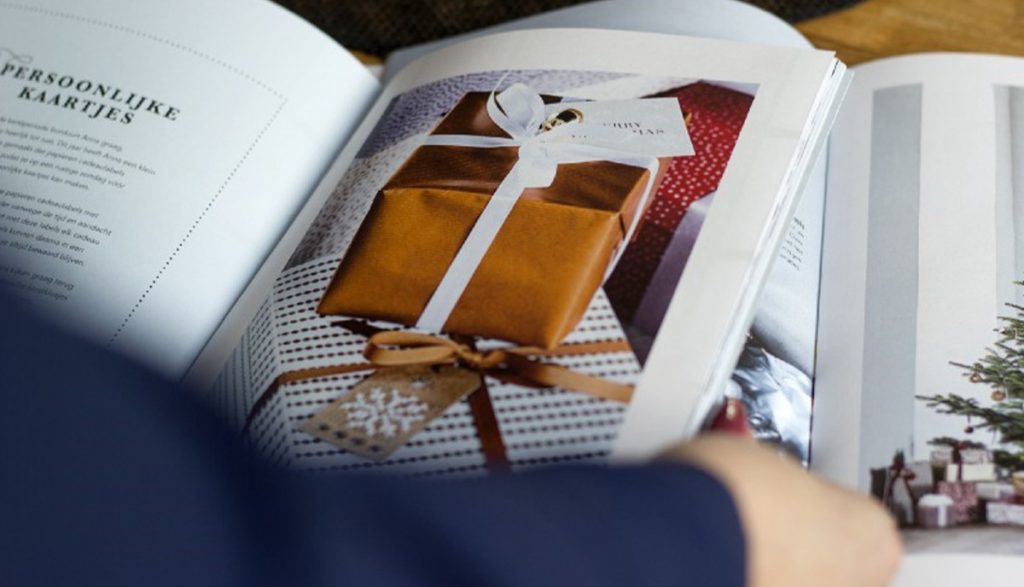 Adding a printed product catalog to your marketing strategy is proven to be an effective way to boost awareness of your brand, increase customer loyalty, and drive new sales. While designing, creating, printing, and distributing a custom catalog may seem overwhelming at first, it needn't be. Once you break it down into smaller achievable steps, you'll soon see that it's a project that's well within your reach — and your budget. Let's dive in.
The key to success in catalog development is to start with a well thought out strategy which defines the specific purpose of your catalog, who it's aimed at, and how you'll get it to them. The purpose should be as objective, clear, and unequivocal as possible. The more honed down and specific you can make it, the better.
So, "promote our brand" won't really cut the mustard; whereas, "increase awareness of our autumn clothes collection among affluent 25- to 35-year-old working mothers in the X district" would give you something you can work with. Make sure that you can sum up your catalog's aim in a simple, comprehensive, single-sentence mission statement like the one above. You can then use that statement to guide you through everything that follows in the choices you make about the design, printing, and distribution of your targeted product catalog.
Don't rush too quickly to a conclusion. Take time over this vital step. Brainstorm, try out ideas, change things out and reframe, edit, and consult until you come up with exactly what you need. Everything else, including your distribution strategy, springs from this mission statement.
Compose your catalog content
Any effective product catalog depends on a combination of strong visuals and powerful text. The visual and textual elements of your product catalog content need to be devised, composed, and balanced with great care to ensure that they have maximum impact. Your content is the core of your catalog and it has a lot of important work to do:
Convey essential information in a clear and concise manner
Engage the emotions of the reader
Build confidence and trust in the brand
Lead prospects into your sales funnel
Integrate with your wider marketing and promotional strategies
Be eye-catching, distinctive, and memorable
Inspire action
Content which can do all of that isn't created idly on a whim! If you don't have the talent in-house to do the needed photography, create the graphics, and write the text content of your catalog, you'll need to outsource to a competent and reputable freelancer. When choosing a freelancer for either the visual or written content, make sure that you vet them with care. A trustworthy photographer or writer will be happy to discuss your needs and tailor their offer accordingly while supplying you with a verifiable portfolio of recent work and client testimonials.
One way to make sure that this outsourcing doesn't push you over your budget is to spend plenty of time doing market research, exploring what your competitors have done with their most recent catalogs, and devising as detailed and complete project proposal and content profile as you can. The less research and development your freelancer has to do, the faster the turnaround and the less expensive it will be.
Designing a product catalog
Once you have your content prepared — including your product photography, your branded graphics, and your product descriptions, editorial, and other text — you can design your catalog's pages, appearance, and layout. This is another specialized process. Unless you have a high-level qualification and some experience in graphic design — along with the requisite software to prepare print-ready digital files — you should engage the services of an experienced designer to handle this for you.
The same selection process applies to your designer as it would to any other third-party you commission. As an established business, you may already have a designer in-house or an ongoing relationship with an individual or agency that handles all your print publicity. In that case, if they feel confident with the process involved in designing a printed product catalog, you can go with them.
We always say that it's never too early to get your printer involved with catalog production. A good printer — ahem, hello! — will be happy to offer expertise, advice, and even custom-made templates to help you and your designer make sure that your files are properly prepared for print and that all the technical details, such as bleed areas, safe zones, trim lines, and color spaces are correctly formatted. At QinPrinting, once we receive your files, our in-house team will always manually check them to make sure that they're perfect before we go to press. If we find any errors, we'll let you know, explain the problem and how to fix it, and offer any other necessary support to guarantee that your catalog turns out exactly as you want it.
Extra design hints for a perfect product catalog
As it may be the first time that you or your designer have approached making a product catalog, we'd like to share a few extra design tips with you. These are factors we've seen first-timers often get wrong. By looking at these now, save yourself any trouble or added costs in the future.
1. Don't overcrowd your catalog pages
It's a common mistake to cram too much information on each page. Leave plenty of white space around objects. Arrange text and images in such a way as they lead the reader's eye easily from one to the other, guiding their "journey" through the page. Clarity is far more important than quantity in a catalog. It's better to include a smaller number of products that sell than stuff the catalog so full of information that the potential consumer tires of trying to make sense of it and leaves before they take action.
2. Keep the typography simple
Related to the clarity of the age is the simplicity, readability, and consistency of the typeface. Choose a font and size for headings, subheadings, and body text and stick to it throughout. Consistency is key to making the textual elements easy to read and understand. Your reader should absorb information and persuasive arguments, not struggle to decipher the words!
3. Tailor your product photos to your market
Your product photography is important in the effectiveness of your catalog. It goes almost without saying that the photographs must be to a professional level, beautifully lit, and in high resolution. But more than that, they need to speak to the hearts and minds of your target demographic. So consider creating contextualized and dynamic photographs of your products where appropriate. For example, garden tools and furniture can be photographed in a beautiful garden being enjoyed by people who represent the aspirations of your market. Likewise, say, a high-end off-road mountain bike could by photographed in action on a dirt trail. Other products may be best photographed in the studio with a neutral background. It all depends on your products and your intended consumer, but give this serious thought and take photos which won't just show, but sell your products to the people most likely to buy them.
How to choose an affordable printer for your catalog
Once you've designed your catalog, you need to get it printed. The choice of printer can make or break the efficacy and cost-effectiveness of your catalog campaign. If you've followed our advice, you'll have chosen and been working with your printer long before you get to this stage. But when you choose your printer, these are the most important factors to evaluate before you commit to working with them:
For a small business, make sure that they offer short run catalog printing, so you only need to print the number of catalogs that will be useful to you
Check their credentials and that they have a track record not just as printers, but with printing catalogs
Make sure that they offer personalized customer care and follow-up
Check that they can offer you no-obligation quote and a best price guarantee
Choose a printer that offers support with the technical aspects of production and will provide a "proof" copy of your catalog to check before you commit to a print run
You may have a printer that you've already established a relationship with or prefer to shop around before you decide. But we'd be disingenuous if we didn't point out that QinPrinting offers all the above benefits. We've been in the business for decades and have printed more successful catalogs for our clients than we can count. Just sayin'.
Plan your catalog distribution
There are many ways that you can distribute your catalogs once they're printed. Which you choose will depend on the size and weight of the catalog itself, your target market, and your distribution budget. Some of the easiest and most cost-effective catalog distribution methods are listed below:
In-store: stacks of catalogs your customers can pick up in-store either positioned near certain product lines or at the point-of-sale
From your website: giving your website or e-commerce store visitors the option to order a physical catalog through the post is a powerful technique
Direct mailing: so long as you do your market research and target your mailing campaigns well, direct mail is one of the most effective catalog distribution methods with proven returns on investment
Street distribution: having representatives hand out the catalog on the high street to customers who fall within your target demographic is another option which requires little expense and can work well, especially for a local business
Whichever distribution method — or mix of methods — you choose, remember to keep track of how many catalogs you send out, to whom, and what your returns are. The easiest way to ensure the traceability of customer actions back to your catalog campaign is to add QR and AR codes, which attribute a unique code to identify the customer and the catalog when they are scanned. Another possibility is to include discount codes and gift cards within the catalog.
As you can see, with the right planning and strategizing, there's no reason your business shouldn't be able to design, print, and distribute a printed product catalog which will boost your brand visibility, drive sales, and give you a good return on your initial investment. We've been driving success for small businesses though our specialist catalog printing services for over 25 years. Get in touch to talk through your ideas or request a no-obligation quote. We'll be happy to help you get your catalog marketing campaign off to a great start!